Admin Department
---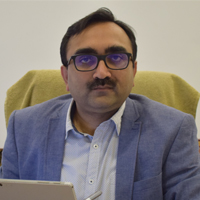 ---
Dr. Parag Sanghani
Executive Dean

---
Dr. S. A. Channiwala
Honorary Mentor

---
Dr. Siddhartha Prakash Duttagupta
Honorary Mentor
Dr. Parag Sanghani
Executive Dean
Dr. Parag Sanghani is presently the Executive Dean with P.P Savani University. He is an Endeavour Fellow from QUT, Australia and has global exposure of education system in Europe, Australia and UK and has worked with leading Universities in UAE as Head of Academics.
As an academician he has been imparting his vast experience in the subjects of Innovation and Creativity, Information Systems and Operation Management at various Institutes and Universities around the globe. He has trained several executives in different part of the world.
He has several publications and scientific articles in the journals of repute. Previously, Dr. Sanghani has handled 250 Million USD PPP mode projects in education and infrastructure in India. Dr. Sanghani has worked with NAAC, India, QS, Singapore to enhance quality of Higher education.
Dr. S. A. Channiwala
Honorary Mentor
Dr. S. A. Channiwala (M. Tech., Ph. D) is an Honorary Mentor of P.P. Savani University. He has pursued his Ph.D. from IIT, Bombay and presently a Professor in Mechanical Engineering department, SVNIT, Surat. Dr. Channiwala has an academic experience of 36 years at SVNIT, Surat. He has more than 225 publications, guided 23 PhD including 6 under progress and more than 100 M.Tech. students.
He consulted in more than 250 assignments and was involved in more than 10 research projects as a principal investigator. He bears 9 Patents which includes 2 International and 6 National and has been honored with numerous prestigious awards. He has been invited to deliver several key note/ plenary lectures and to present scientific papers in several international and national conferences in India and abroad. His major achievements are:
Developed India's 1st 0.5 MW Sewage Gas based Power Plant at Anjana STP, SMC-Surat
Development of one of India's Largest Vegetable Waste Based Biogas Bottling Plant (max. 5000 m3/day) for APMC Market, Surat
Developed Zero Effluent Discharge Gasification System –1st of its kind across the Globe
Developed Dedicated CNG Engine Technology
Developed India's first Solar Assisted Electric Vehicle
Proposed Concept Hybrid Vehicle - ADRENe
Dr. Siddhartha Prakash Duttagupta
Honorary Mentor
Dr. Siddhartha Prakash Duttagupta (MS, PhD) is an Honorary Mentor of P.P Savani University. He has obtained B.Tech (Honours) in Electronics and Communication Engineering from the IIT, Kharagpur, MS and PhD in Electrical and Computer Engineering from the University of Rochester, New York, USA. Dr. Duttagupta has previously held the position of Assistant Professor in Electrical and Computer Engineering, Boise State University, Idaho, USA and also Director of Technology, Solar Integrated Technologies, Los Angeles, USA.
At present he is an Associate Professor in Electrical Engineering at the IIT Bombay, Mumbai. While being involved in academics, he has also been associated with start-up ventures in India and in the USA with focus on nano-fabrication process led solutions for renewable energy. Dr. Duttagupta holds one US patent (2015) and one Indian Patent (2016) and has filed for more than 20 patents in Micro/Nano-scale Transducers and in Green Power Circuits and Systems. He has authored five monographs on platform technologies in Fuel Cells, Body Area Sensing, Non Uniform Image Mapping, and Precision Cooling.
The impacts of 120 publications are reflected in 3697 citations (ref. Google Scholar) including 5 publications with 100 or more citations. Dr. Duttagupta has been actively involved in the development of Research Centers of Excellence based in India and in the USA. He has also been engaged in R&D activity sponsored by organizations such as the US Army, NSF (USA), DST (India), Crompton Greaves, Nipro Glass and Tube (Japan), and Tata Consultancy Services.
Dr. Duttagupta's areas of interests are in (i) Micro/Nano-fabricated devices- Optimization and Application and (ii) Integrated Electronic Systems-Design and Deployment.